The Drummer and the Great Mountain is now available in paperback! 465 pages – large format, easy-to-read text (7.5″ x 9.25″). Click the link below to purchase your copy.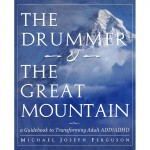 Price: $21.95 US

IMPORTANT NOTE FOR THE HOLIDAYS:
All orders after Dec. 1st may not arrive before Christmas.
However, you may be able to get it on time if you order from Amazon.
Please contact us if you are interested in making a bulk order, or your country isn't listed in the shipping rates.