The Drummer and the Great Mountain is now available in paperback! 465 pages – large format, easy-to-read text (7.5″ x 9.25″). Click the link below to purchase your copy.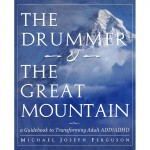 Price: $19.95 US

IMPORTANT COVID-19 NOTE
Our publisher is temporarily not able to deliver orders outside the US.
If the shipping address is not in the US, please place your order through Amazon.com.

SHIPPING NOTE:
Due to COVID-19 safety protocols and slower shipping,
orders have been taking longer to be delivered.
Thank you for your patience.
Please contact us if you are interested in making a bulk order, or your country isn't listed in the shipping rates.